Atlas Comics is Dead! Long Live Atlas Comics!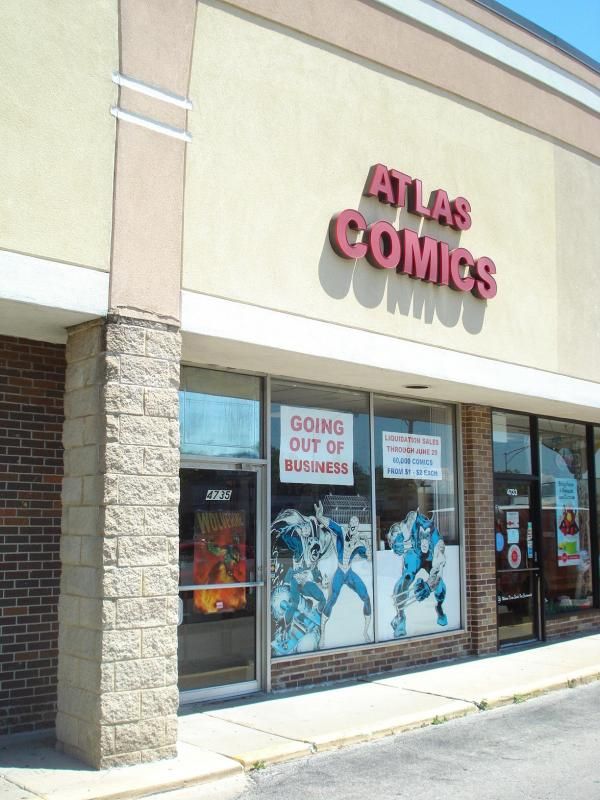 Recently I told
how the comic book shop I visit every week is closing after 25 years. But wait, there's more to the story!
I've already explained that
Atlas Comics
owner
John Stangeland
will be beefing up his internet presence, but now comes the news that there will also still be some bricks and mortar in his future. This is good news for me because the way
John
runs his shop is the way I like a comic book shop to be run.
John
is throwing a little bash to say farewell to his current location, and I have just enough chutzpah to go ahead and invite the entire world to come and wish him well. Here's the very nice write-up that
John
has sent out in his weekly newsletter:



After 30 years in the comic book business – the last 25 of those at Atlas Comics in Norridge, Illinois, I'm calling it quits. I have no regrets, recriminations or disappointments. On the contrary, comic books have been amazingly good to me. They have afforded me an opportunity to work with what I love, and without a boss sitting over my head. They purchased my home, and allowed me the freedom to travel around the world. Those travels proved to me the incredible power of comic books. I've seen massive pop culture stores in Barcelona, Spain; small children wearing Spider-Man T-shirts in the remote villages of Thailand; an Iron Man cap on the head of a middle aged farmer in rural Peru, and action figures at a tiny roadside stand in central Turkey. In the main shopping district of Shanghai, China, there is a store devoted solely to knock-off Superman memorabilia. In all these places and many others I met people who loved comics and envied my opportunity to enjoy so much fun and freedom in my job. For their envy, I thank you – the great customers and friends who made Atlas Comics such a long lasting success.




Saturday, June 29th, 2013 will be our last day in business. That last day will be the final blow-out of our current liquidation sale, and a going away celebration for the sheer fun of 25 years of comics. I'd like to invite everyone, old and new, to come out and have some food, conversation and laughs from

11:00 am until 7:00 pm

, at the venerable old institution at 4735 N. Cumberland Street in Norridge. Let's try for the unalloyed enjoyment of those riotous, primary colored Captain America adventures of the Golden Age. Or the static electricity of Kirby Krackle hanging in the air. And maybe at the end of the night we'll raise a toast to the people who actually made it all possible: Stan Lee, Jack Kirby, Will Eisner, Jerry Seigel, Joe Shuster, Bob Kane, Jerry Robinson, Bill Finger, Joe Simon, Max and Bill Gaines, Wally Wood, Steve Ditko, and all the others who created the joy we've immersed ourselves in lo, these many years.




Atlas Comics will continue to sell vintage comics into the future online. You can reach us at the same phone number (708) 453-2110 and email address (

atlas@acomics.com

), and you'll find Atlas on Ebay under the name "atlascomics". You don't have to stop buying comics – you just can't do it at 4735 N. Cumberland anymore. See you on the 29th.