Doctor Doom Never Had a Chance Against Me!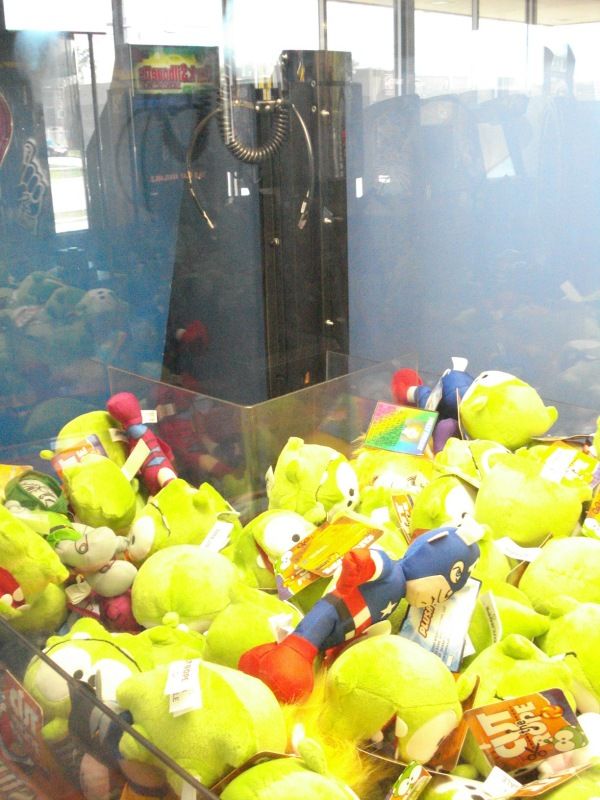 Look at Captain America taunting me in this arcade grabber game. The playing field population is mostly comprised of round greenish creatures (from Toy Story, I think), but there's also a Doctor Doom and a Hawkeye and an Iron Man.
This machine is in the game room of my friendly, neighborhood bowling alley. Brunswick Zone in River Grove, Illinois has a great deal for the summer in which for $9.99 they let me bowl as much as I want in two hours plus they give me a personal pizza and a pop. I did buy myself a new bowling ball last month so I've been partaking of this deal most weekdays for the last two weeks.
Also with the deal comes twelve game room tokens. If there were any pinball machines I would have felt a gravitational pull toward them but instead I was drawn to the Marvel character stuffed dolls in the grabber game. Each play costs four tokens and the game is over after one grab (whether it was a successful grab or not).
So many times I was able to pick up one of the Marvel characters only to have it slip out of the grabber's claw on the journey over to the Treasure Drop. The key to success, I figured out, was to grab for two dolls at once and then they don't slip out afterwards. That's right, I won! Look for yourself down here at my trophies.