Scribbly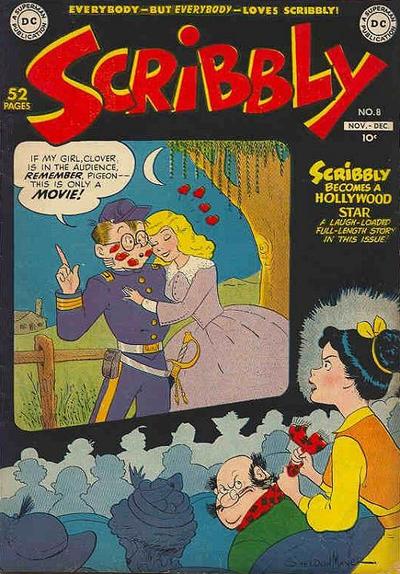 Scribbly Jibbet
is my favorite
Sheldon Mayer
creation. The
Scribbly
series from
DC Comics
ran for just fifteen issues back in the late 1940s and I started gobbling them up as back issues when I was a teenager. It was a few years later that I started grabbing issues of
Mr. Mayer
's better-known
Sugar and Spike
; it was a proud day for me as a collector when I completed my
Sugar and Spike
98-issue run, but somehow I never did get a complete run of
Scribbly
...
This week I'm selling
Scribbly #8
on
ebay
and I decided to check if any other sellers were also offering that issue. The search results gave me my biggest surprise so far this calendar year!
Scribbly
saw print in a couple issue of a
Dell
comic book before he ever appeared in any
DC
title!
In my search for
Scribbly #8
, a 1936
Dell
issue named
Popular Comics #8
popped up. I had never before heard of
Popular
but the seller had included "Early
Scribbly
" in his description. What a maroon, I thought to myself! This seller is a charlatan who knows nothing about comics, I smugly continued to myself. But the seller was correct (and you can read more details over
here
).
By the way, I never dreamed in a million years that
DC
would publish a
Sugar and Spike
Archives Edition. But they did. Let me go way out on a limb here and wish that
DC
will likewise publish a
Scribbly
Archives Edition. Before graduating to his own series,
Scribbly
appeared for years in
All-American Comics
(both with and without
Ma Hunkel, The Red Tornado
) and I haven't read those stories. But I would like to.