Declared UnKirby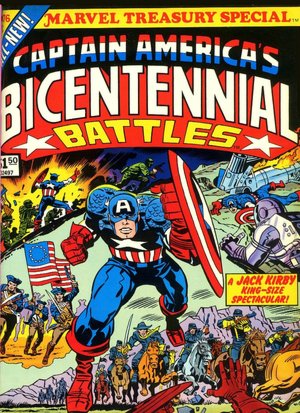 Barry Pearl
wrote an interesting piece in which he claims he was the biggest
Jack Kirby
fan ever (hey, wait a minute, I thought
I
was!) but that he was declared "
UnKirby
" for not denouncing
Stan Lee
and for appreciating the work of
Steve Ditko
and
Don Heck
and
Dick Ayers
(whose only infraction was that they were not
Jack Kirby
). You can read
Barry
over
here
.
When
Kirby
stopped drawing
Captain America
in 1978,
Barry Pearl
stopped reading comics. I part ways with
Mr. Pearl
at that point. Although many of my favorite comics of all time were created by
Jack Kirby
, many others were not. It has been my great pleasure to tell people about great new comics I felt deserved a wider audience, starting with
Love and Rockets
in the 1980s and continuing right up to
Mudman
in recent weeks. I will never stop seeking out comics that are so great as to make me feel the same way as the
Kirby comics
I read in my youth. Hooray for
Jack Kirby
!