A Tribute to Ben Oda
Ben Oda
is my favorite comics letterer of all time.
I have not been keeping that a secret.
Here
is an archived post from the 2007 infancy of
The Hayfamzone Blog
had me proclaiming from the mountaintop the excellence of
Mr. Oda
's handiwork, plus more. I additionally invited everyone to help themselves to a free download of
Odaballoon
, a wonderful computer font created by
Mr. Oda
's family and featuring a design based on the gentleman's beautiful hand lettering. I continue to use
Odaballoon
just about every single day and I repeat my invitation to you to use the link above to download the freeware for yourself.
Ben Oda
was called away from this world in 1984. I had forgotten until just recently that a wonderful tribute to
Ben Oda
saw print in the
DC Comics
that were cover dated June of 1985. Written by editor
Andrew Helfer
, this wonderful article has been out of print for far too long. Up above you can see how the page appeared in the printed comics, and I consider it an honor to re-present to the world this informative and reverential memorial to a gifted craftsman:
BEN ODA REMEMBERED
BY ANDREW HELFER
You probably never thought twice about
Ben Oda
. He was never interviewed by the fanzines. He was never the guest of honor at a comics convention. Fans never begged him for his autograph. The spotlight never touched him. And there's probably a very good reason for that.
Ben Oda
was neither writer nor artist nor comic book creator. He was just one of the hundreds of people who put the finishing touches on comics.
Ben Oda
was, to put it simply, a letterer.
But
Ben Oda
had a fan club. An exclusive group. We kept its very existence a secret. Instead of calling it "The Ben Oda Fan Club," we called it
DC Comics
. To us,
Ben
was not only our favorite comic book letterer; he was also our favorite human being. And when he passed away a few weeks ago, we all became acutely aware of a space in our lives that would never again be filled.
Ben Oda
was one of an ever-dwindling group of comic book professionals - the "old timers." He worked on comics in their infancy, through their heyday, and right into the present. In the forties, his distinctive lettering style graced the pages of
Jack Kirby
's early work. In the fifties, when
Harvey
Kurtzman
needed hand-lettering for his now-famous
EC
war comics,
Ben
was the man he asked to do it. He was a letterer for the
Chicago Tribune
and
King Features Syndicate
, regularly turning out pages of
Prince Valiant
,
Little Orphan Annie
,
The Phantom
, and others too numerous to mention. And until mere days before he left us, Ben was also the most prolific letterer working at
DC Comics
.
Those are the facts - they're easy to tell. What's harder to explain is the way
Ben
touched us all - every day of his life.
Among other letterers,
Ben
was the acknowledged master - I remember
Tom Orzechowski
's delight over being introduced to him some years ago; and
Bob Lappan
literally studied
Ben
's work with a comprehensiveness that
Ben
found both flattering and confusing. He never quite understood why anyone would give his work a second glance - as far as he was concerned, his job was simply to make the writer and artist look as good as possible.
And that's exactly what
Ben
did so well - twenty-four hours a day, seven days a week, or so it seemed.
Ben
would come into the
DC
offices every day at four-thirty in the afternoon (you could set your clock to it) with a staggering number of lettered pages. If you had a book that had to be lettered overnight, you just gave it to
Ben
. Truth to tell, we took him for granted. He was the ultimate pinch-hitter, and he got the
DC
team out of more than one deadline jam. But, like most pinch-hitters, he seldom received the praise he deserved.
And as much as we'd all like to believe otherwise,
Ben
was no speed demon. He'd work long hours, sit hunched over his drawing board late into the night, all to meet what he undoubtedly felt was a personal commitment to a friend. Sometimes, in his desire to please and help out, he would push himself too far, and the strain would show. Often, the results were hilarious. Once in a while,
Batman
might "fight a wart on crime," and
Superman
might be referred to as "The Man of Seel." We'd laugh together over
Ben
's occasional blooper, and seldom think about the sleepless nights he'd put in just to get the job finished. Again, we took him for granted.
But when the job was finally done,
Ben
would sit himself down in one editorial office or another and just shoot the breeze. This was when you got to know and really appreciate
Ben
. He could talk about practically anything - World War II and his time in the service (he was a paratrooper, a spy, and a part-time baseball player), his memories of comic book pros he'd worked with in the past, his family, the performance of various players on his Monday night bowling team, and the current state of the comic book field. All his stories and opinions were delivered with such a keen sense of humor that you couldn't help but laugh.
But there was more to Ben than just that. When
Ben
told a story, he became a kind of Japanese
Will Rogers
, a homespun humorist with a shy smile that could melt ice. Dozens of wrinkles etched into his face, laugh lines mingling with the ones that simply come with age,
Ben
often seemed like an ancient yet human sage, always aware of the humor in life, and enjoying every minute of it. You had only to talk to
Ben
to see that this was true. His eyes would sparkle with life, and in an almost mystical transference, our eyes would sparkle too.
And perhaps, when all is said and done, this was the most wonderful thing about
Ben
- his uncanny ability to make us smile, to make us laugh, to lift us out of our late-afternoon doldrums with a simple anecdote or tall tale - to simply be
Ben
. These were his gifts to us, these were the things we took for granted, and these are the things we will miss the most.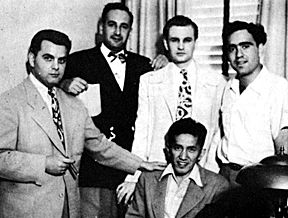 Jack Kirby, Joe Simon, Bill Draut, Marvin Stein, and Ben Oda (seated)