Aw Yeah, Art Baltazar!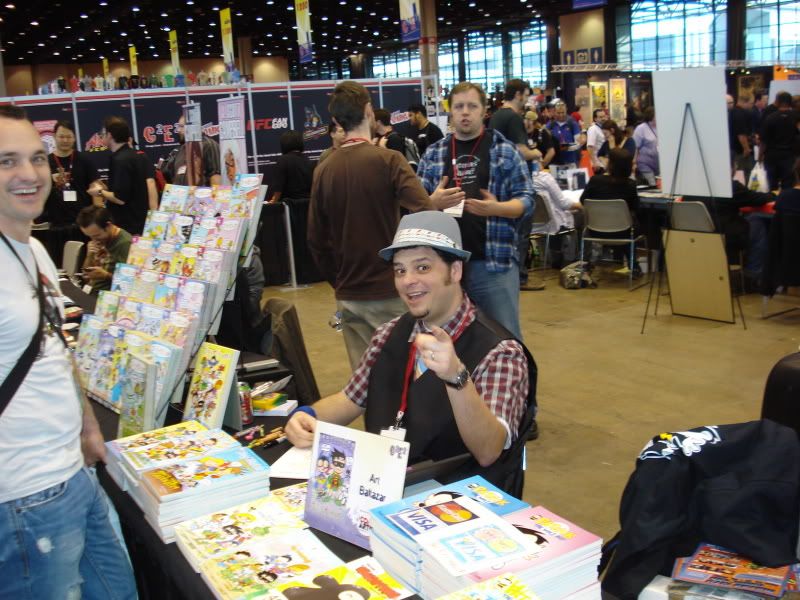 Art Baltazar
is great.
Poth Jeanette
and
Prince Catt
and I have had the pleasure of chatting with him in the
Artists Alley
of a number of different conventions for a number of years. And
Mr. B
was the subject of one of my earliest blog articles, over five years ago! Above is a picture I took at the first
C2E2
convention back in 2010, and the picture down yonder shows some of the paintings the gent was displaying that day (and don't worry! He told me he didn't mind me taking the picture).
I just heard today that
Tiny Titans
is being cancelled. That is a big, steaming drag. Month in and month out for four years,
tt
(not to be confused with
TT
which is reserved in many people's minds for the
Teen Titans
) was one of my favorite comics in the pile. I remember that I got such a kick out it the first time
Hoppy the Marvel Bunny
appeared (without even being identified by name). Oh well. I know the upcoming
Superman Family
project will be great also.
Not one to squander his social networking connections,
Mr. B
is giving his online friends quite a bit of content lately. He publishes a
daily
online newsletter
entitled
Aw Yeah News!
and he also
presents
The Aw Yeah Podcast with Art & Franco
. Somebody's keeping busy!
What's that? You say you'd like to see more of
Mr. B
's artwork? Okay, okay, I'll give you another look at the little paintings that I have hanging in my
comicartfans.com
gallery room
. And whenever you want you can do a
google
search
and see as much artwork as you'd like.
Aw yeah!