Today is Batman Day!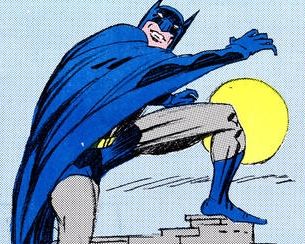 Happy
Batman Day
! I celebrate the occasion with you by taking another look at
Jack Kirby
's above first drawing of the Caped Crusader, from the cover of 1973's
The Comic Reader #100
(and over
here
you can see an alternate version of that cover that I hadn't seen before today).
Three of my favorite
Bat
-memories are: enjoying the
Neal Adams
artwork on his early 1970s
Batman
stories; marveling at the
Marshall Rogers
artwork on his late 1970s
Detective Comics
run; and being in attendance at the midnight premiere of
Tim Burton
's 1989
Batman
side-by-side with an incredibly electrified audience of hard-core fans just like myself.
In an extensive
article
regarding
Batman Day
in today's
Chicago Tribune
,
Neal Adams
is quoted as stating that
Gotham City
is more like
Chicago
than
New York City
partly due to the fact that
Chicago
has a preponderance of alleys while
NYC
has a dearth of those crime-ridden urban passageways.
I will of course be helping myself to a copy of the free
Detective Comics #27 Special Edition
generously being offered by
DC Comics
. You can use the map over
here
to see where you can pick up that special comic for yourself, with 1324 locations indicated in North America, 26 in Europe, 26 in Australia, and 12 in Asia.
Again, Happy
Batman Day
!