A Bookful of Drawing Table Photos (Plus Two)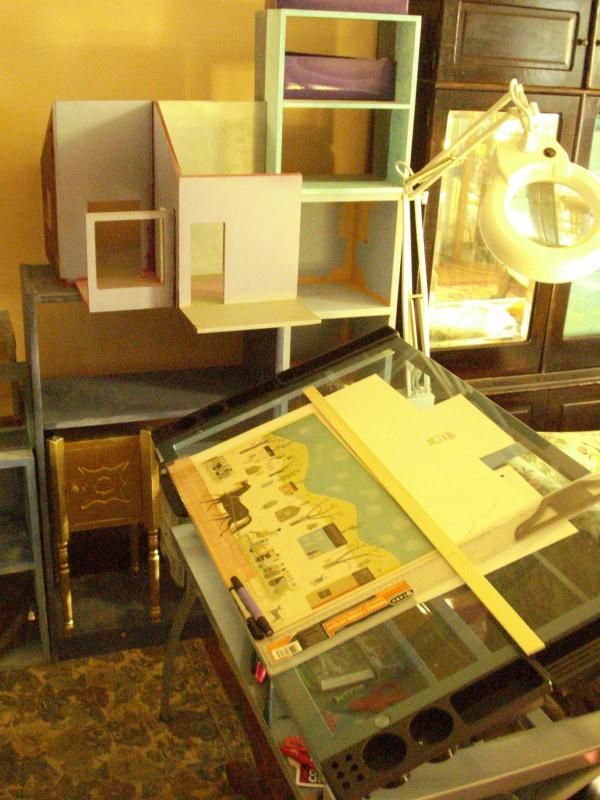 The Artist Within
is huge and features photographs by
Greg Preston
.
The book is an interesting one that displays large, full-page photos of the drawing tables of comic book artists. I like that
Jack Kirby
and his drawing board are on the opening pages of the book. How appropriate!
Also included are
Sergio Aragones
and
Will Eisner
and
Russ Heath
and
Patrick McDonnell
and many, many others. This book gave me my first view of many artists whose work I have appreciated for a very long time. But, inexplicably,
Mr. Preston
and his editors forgot to contact me and I don't mind correcting the unintentional oversight right here and now.
Up above is a photo of my
Futura
drawing table. You might ask why there is a print by
Doris Lee
sitting on the tabletop. Well, we like her artwork, and also I like something to be on that tabletop during the months that I don't get around to sitting down to draw. You might also ask why the table is positioned next to a deserted dollhouse, but for that answer I'll have to defer to the psychotherapists among you.
A photo of
Joe Kubert
and his drawing table is in the book, but I prefer the below photo of them. The picture in the book relegates
Mr. Kubert
's table to the background but this image emphasizes its massiveness. Wasn't it as huge as a football field?!
The cover price of
The Artist Within
is very reasonable considering its size and quality, but still let's see if we can get you
a deal over on ebay
. I highly recommend this book!