Jack Kirby's Virman Vundabar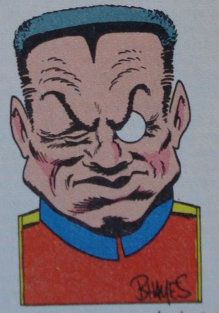 Back in my days of writing letters to the editors of comics, I was very strategic. Rather than sending in to the comics that I felt most strongly about, I focused on the titles that received the fewest letters. I wanted to maximize the probability of my composition getting published!
In the 1980s,
The Omega Men
at
DC Comics
suffered from a fairly empty mailbag. I decided to do something about that. I not only wrote a letter but also sent in a
drawing
of the
Jack Kirby Fourth World
character
Virman Vundabar
. There must have been a connection that is no longer clear in my mind (maybe
V.V.
was appearing in the then-current storyline?). Anyway, the above drawing by me was colored by
DC
and saw print on the letters page of
The Omega Men #29
, cover dated
August 1985
.
The story in that issue was beautifully drawn by
Shawn McManus
and, interestingly, written by
Todd Klein
. That's right! Before he worked his way up the ladder to being one of the most respected letterers in all of comics,
Todd Klein
dabbled with being a writer. (
The Grand Comics Database
informs me that
Todd
wrote over three dozen comic scripts.)
Down here is the letter I wrote to
Omega Men
editor
Alan Gold
and which saw print adjacent to the
Virman V.
drawing. Has my writing style changed in 27 years?