The Punisher by Gray Morrow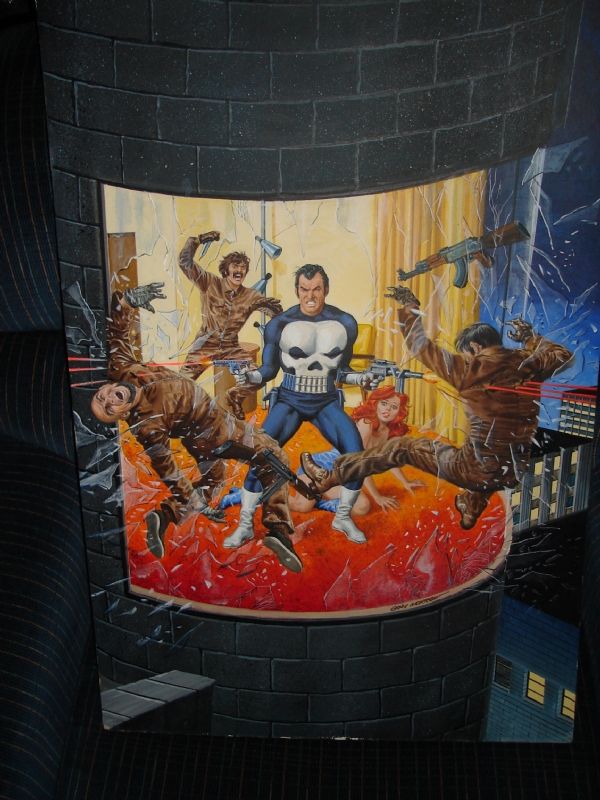 I used to own a painting.
I owned
dozens of nice pages
of original comic artwork but, among them, just one painting. And it was
spectacular
.
The Punisher
was created by
Gerry Conway
and made his first appearance in 1974's
Amazing Spider-Man
#129. The character caught on immediately and, although not awarded a series of his own until the mid-1980s, made numerous appearances not only with
Spider-Man
but also with
Captain America
and
Daredevil
.
The Punisher
did appear in one solo story not long after his debut, in 1975's
Marvel Preview
#2.
Marvel Preview
was an entry in
Marvel
's underappreciated black and white magazine line; the first issue of the series had featured stories drawn by
Alex Nino
and
Dave Cockrum
under a sharp
Neal Adams
cover (I do not remember those stories and now I have an itch to dig out that issue and look it over). The second issue of
Marvel Preview
was dominated by
The Punisher
, weighing in with a 32-page story by
Mr. Conway
and
Tony DeZuniga
. And that spectacular cover. By.
Gray
.
Morrow
. Yes it's a bit blood-soaked, but still.
I didn't give the cover all that much thought as I picked that magazine up and bought it off the newsstand. But a decade later I purchased the original painting and I owned it proudly for twenty years. It is the only artwork I ever owned that I framed. The painting was a huge two feet wide by three feet tall if I'm remembering correctly (and I am). You can see a larger version of the above snapshot I took of the painting over
here
.
Now, listen as I cue the fast-forwarding-tape sound effect and bring us back to the year 2012. Earlier this year I wrote about the cable television disappointment entitled
Comic Book Men
. I gave you my impression immediately after watching the first episode and planned to report again after seeing the entire six-hours series. I did take notes every week and there
were
some things I was going to bring up, but guess what. I threw those notes out. Let it go. The show stunk. There is just one last little thing I want to say about it, however.
On one of the episodes, an individual brought a comic book into the store that he wanted to sell to 'the guys' and it was
Marvel Preview
#2! I said to myself Now
this
is bloggable! The guys behind the counter blathered on about the history of the character for a while but (now get ready for this) a graphic on the screen incorrectly identified the comic book with the below cover as
The Punisher
#2 from 1986. Huh?
I wrote
yesterday
about how seventeen professors of philosophy got every comic book reference correct in their 280-page
Green Lantern and Philosophy
book. So why would the supposed experts of
Comic Book Men
not do just a little bit of fact-checking and catch an egregious error like this one before it ran out of the barn?
Just breathe, let the blood pressure come down a bit and, like I wrote earlier, let it go. Please do take a minute to soak in this painting, though. It's a beauty.