Four Decades of Appreciation for Jordi Bernet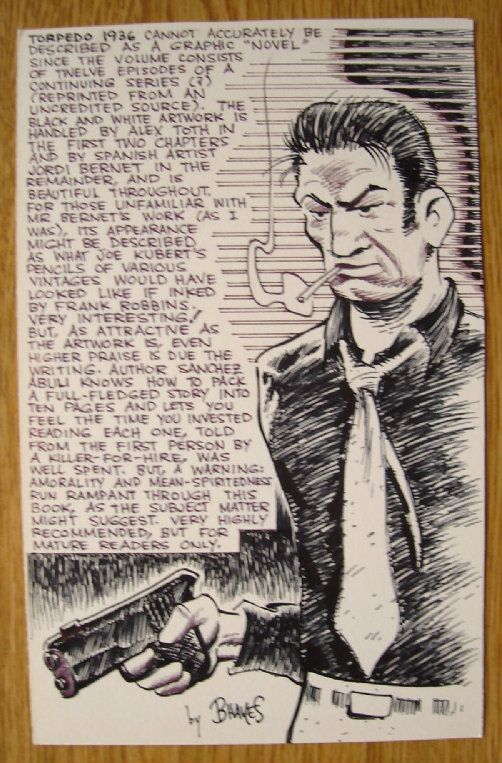 I was immediately entranced by the artwork of
Jordi Bernet
when I first saw one of his
Torpedo 1936
volumes in the 1980s. In my first incarnation as a comics commentator (for
Alan Light's Comics Buyer's Guide
) I drew the above (ahem)
commentoonie
to do my part in spreading the word about
Bernet
's
Torpedo
character. (A larger, readable, version of the drawing is available for viewing over
here
.)
I was pleased as punch when
Bernet
drew his first issue of
Jonah Hex
and
I wrote about the event
in late 2006, in the infancy of
The Hayfamzone Blog
. (Of course
Bernet
has drew many more issues of
Hex
in subsequent years and I was always glad to see one rolling into the comic book store.)
I mailed a hard copy of my article to
Jonah Hex
co-writer
Jimmy Palmiotti
in care of publisher
DC Comics
, just because I wanted to share the love. But you'll never guess what happened next! The letter was returned to me, unopened,
RETURN TO SENDER
written in black marker on the envelope. Thanks a heap,
DC Comics
!
Without identifying at the time what I had sent or to whom, I wrote about
An Experiment in the Hayfamzone, Part One
in early 2007. You can read at the end of that article that I intended to try re-sending my letter (to
Mr. Palmiotti
) and see if I would have better luck breaking the barrier.
Sometimes it takes five years but, yes, we do follow up on things in the
hayfamzone
! I now follow
Jimmy P
on
twitter
and I will direct-send him a link to this article you are now reading and I'm fairly certain he will finally get to read what I had meant for him to read so long ago. Hooray! The subtitle of this article that you are presently reading is
An Experiment in the Hayfamzone, Part Two
. Case closed!
I invite you to read more about
Mr. Bernet
over on
Wikipedia
, and let's close off with a drawing by
Mr. B
of
his own character
.