Sarah Becan's Shuteye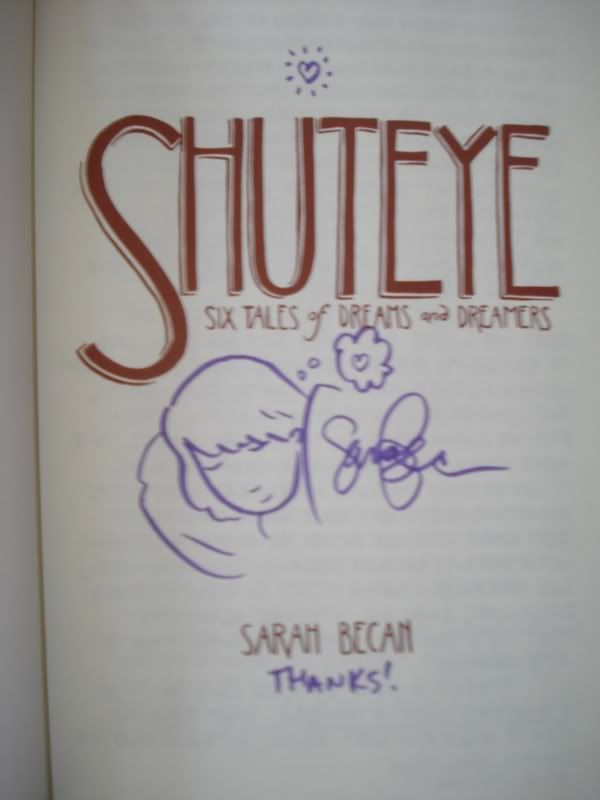 Joe Simon
and
Jack Kirby
's
Sandman
ruled the realm of dreams in his 1940s
stories
in
Adventure Comics
, and
Simon & Kirby
delved deeper into the topic in their
Strange World of Your Dreams
series
in the 1950s. Dreams (together with hoaxes and imaginary stories) were an every-month occurrence in
Mort Weisinger's Superman family
of
comics
in the 1960s. And of course
Neil Gaiman
's
Sandman
raised dreams to a new level of cool starting in 1989.
Chicagoan
Sarah Becan
mines this same rich ore in her
Shuteye
. Originally self-published as mini-comics, the series has been collected in a softcover edition thanks to funding Sarah got from her fans on
Kickstarter.com
. The book is beautiful, and the brown tones of shading make the artwork very welcoming. I especially like how there are pages devoted to showing the character of one chapter morphing into the character of the next chapter.
It was a pleasure meeting
Ms. Becan
at her recent signing at
Chicago Comics
. I found out that Sarah is a big fan of brush markers, as I am. And home-baked cookies for everyone! You'll want to visit
http://www.sarahbecan.com/
for more information.