Dean Haspiel and Ben Oda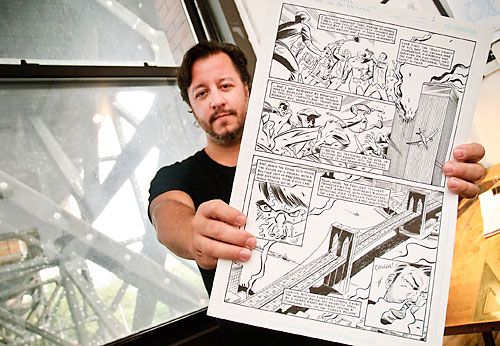 I was heartened to read recently that artist
Dean Haspiel
was inspired to become a comics creator by my all-time favorite letterer,
Ben Oda
!
Dean
tells the story in his own words:
...at age 15, I got a job at my local candy and cigar store that paid me two-dollars an hour so I could buy more comics. Old comics! I met my first real life cartoonist when a regular customer, a short, unassuming Japanese-American man came in with a portfolio and I asked him what was in it. He pulled out original art from Prince Valiant and Dondi that he was lettering. His name was Ben Oda.
Suddenly, comics became humanized and were much more than The Fantastic Four, Spider-man, Batman, and something called Star Wars before the movie came out. Real people made these things. I started to recognize names and follow my favorite creators. Later on, I discovered Chester Brown's Yummy Fur and Harvey Pekar's American Splendor and learned that comic books could be about anything. And, with that, I decided I was going to be a comic book creator, no matter what.
(You can read the entirety of what the gentleman said over
here
.)
Hooray for
Dean Haspiel
and, as ever, hooray for
Ben Oda
!