Mad Max's Brendan McCarthy
I watched
Mad Max: Fury Road
yesterday and thought it was fabulous! I saw
The Road Warrior
when it came out in 1981 and liked it but I can't imagine it was as excellent as this follow-up. No film in recent memory has had color this beautiful and oh, those crazy cars! I wait for the credits after a movie that impresses me and I was amazed to see
Brendan McCarthy
listed as a co-writer with director
George Miller
.
Mr. McCarthy
's name will ring a bell since he was involved with the 1990s revamp of
Steve Ditko
's
Shade, The Changing Man
. I have been enjoying the gentleman's artwork since before that and I fondly recall his work in
Strange Days
from
Eclipse Comics
in the mid 1980s.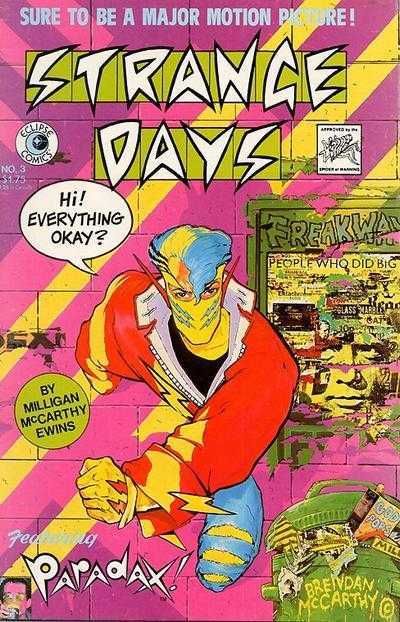 So taken was I with the fresh and bright style that I recommended
Strange Days
to my readers. I even drew
Mr. McCarthy
's
Paradax
character as part of my strip published in 1985's
Comics Buyer's Guide
#601:
You can read more about
Mr. McCarthy
's involvement with
Mad Max
over
here
and
here
, and I'm pleased to read that a sequel to
Fury Road
has already been announced!