I Bought the Life Size Moon Monster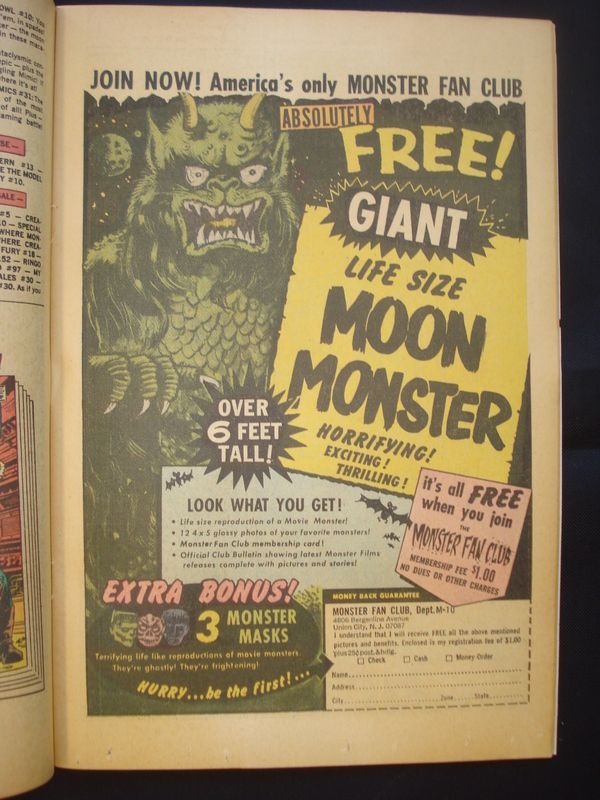 In 1970 the above advertisement for the Free Giant Life-Size Moon Monster appeared in just about every comic book (always on an interior page, never on the back cover or an inside cover). Was it a huge statue, I wondered? Of course I had to send in the $1 plus postage to join The Monster Fan Club and get that Moon Monster (and lots of other prizes) for myself.
Like everyone else who placed the same order, I was disappointed by what I received.
The 6 Foot Tall Moon Monster was just a poster. From what I see posted online most people received a black and gray poster on somewhat-heavy paper (like the one shown below), but I clearly remember that the one I received was printed with green ink on a thin white rubbery plastic material. I also received two glow-in-the-dark circular stickers to place on his eyes (which I did).
A bit of a disappointment, yes, but still we used that Moon Monster to adorn the front door of our house every Halloween for many years. I have tried unsuccessfully to determine the name of the artist responsible for this iconic image and I encourage anyone with knowledge of his identity to please write in with details.
Many have written about this
Moon Monster
at greater length than me and you might be especially interested in the efforts of filmmaker
Jason Willis
, over
here
. (A couple years back I told you about a 1950s horror cover that
Mr. Willis
brought to life and you might enjoy seeing
that treat
again.)