The 1968 Cover to Blackhawk #243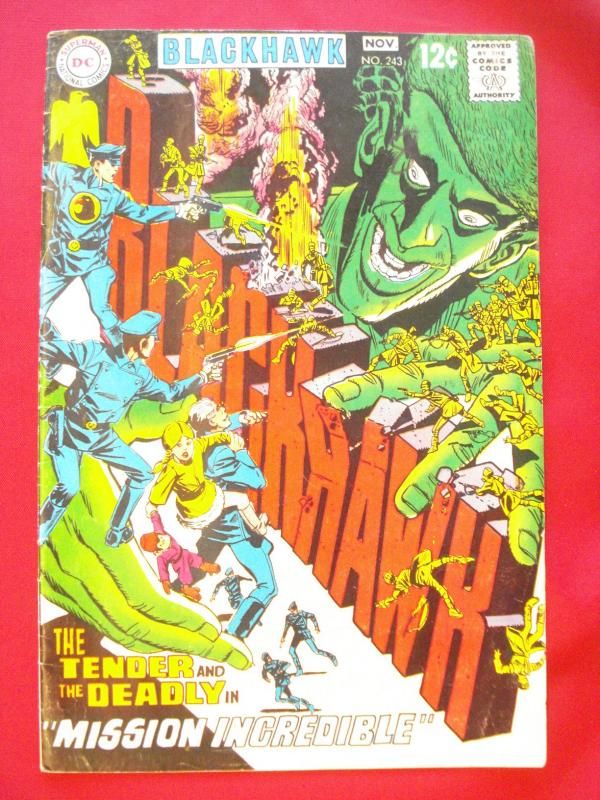 What is your first reaction when you look at the
Blackhawk
cover above? I'll tell you what mine was but first let me make the point that I never saw this decades-old cover before this year. I never previously owned a copy of the book, but I stumbled upon a postage-stamp-sized image of the cover drawing online someplace. And at first sight I screamed out "
Sekowsky
!"
I had never heard of the great
Mike Sekowsky
ever having had any involvement with the
Blackhawk
series in the 1960s so so I did a little investigating. Get this: the
Grand Comics Database
credits
Pat Boyette
with the pencils and inks and letters for the cover! I had to order a copy of the comic off
ebay
so I could look this drawing right in the eye, and I have now received the book in the mail.
The logo lettering and story title lettering are certainly by
Mr. Boyette
, as are all the little people running on the ground and so are all the little people falling from the logo and the ones standing on the logo and the ones above the logo. I'll say that even the hands of the
Green Giant
came from the hand of
Boyette
, but that giant's face is a
Sekowsky
drawing.
Pat Boyette
was not one to mimic another artist's style. I would, however, feel very comfortable appraising the inks on the
Sekowsky
face as being by
Boyette
.
Now let's move our sights over to the
Blackhawk
figures at the left edge of the cover. Even after just a cursory glance, one would have to agree that they are drawn neither by
Sekowsky
nor
Boyette
. From the postures of the three
Blackhawks
and the girl and her doll and the slickness of the inks on all of them, I propose that these five figures were pencilled and inked by
Dick Giordano
(who happened to be the editor of
Blackhawk
at that time). So what's up with all these different hands stirring the pot?
I'll tell you what I think. It was known that this issue 243 was to be the last issue of the long-running
Blackhawk
series that had been published continuously over the 27 years since 1941. I think editor
Giordano
wanted to let the title go out with a bit of a bang so he decided to make the cover a jam drawing between himself and two of his stable of artists to commemorate the passing of an institution. My opinion on the gentlemen's efforts? Mission accomplished with "
Mission Incredible
."
I like the artwork of
Pat Boyette
just fine, but every time I look at the above cover I will continue to scream "
Sekowsky
!"