Jerry Siegel on the Radio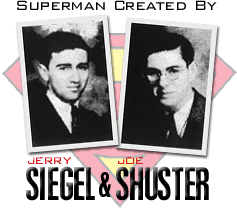 Of course when I say "
Jerry Siegel
" you think of the writer who co-created
Superman
with artist
Joe Shuster
. But do you know that the gentleman appeared on an episode of a popular radio show in 1940? It's true.
I've
told you previously
that comic book writer
Steve Darnall
also hosts a weekly Old-Time-Radio show. I happened to be listening to his show this past Saturday and no sooner did I tune in than I was treated to a recording of
Mr. Fred Allen
interviewing
Mr. Jerry Siegel
on the 10/9/1940 installment of
The Fred Allen Show
. If you were to ask me who
Fred Allen
was I would tell you he was a comedian who had a friendly rivalry with
Jack Benny
, but if you then asked me who
Jack Benny
was I would probably say never mind.
To hear a six minute sample of the 1940 interview, just click
here
and the recording will begin playing immediately.
UPDATE: I found a better way to listen to the above audio plus a couple more great photos.
Here
you go.