Spider-Man the Rockomic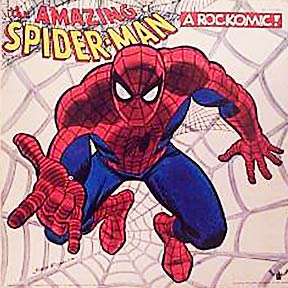 Spider-Man: From Beyond the Grave
is an excellent long-playing vinyl record. Released in 1972 by
Buddah
(or maybe you prefer
Buddha
)
Records
, it features actors in a fairly well written play that is punctuated by fun pop songs that still strike me as catchy forty years after I first heard them. I was strolling through a shopping mall one day in 1972 and borrowed $4 from my older brother to buy this record which (of course) I still own.
I liked what I heard from the very first listen! I also liked what I
saw
, because the record jacket folds open to show rows of wordless comic panels drawn by the great
John Romita
and which follow along with the story on the record. I just learned today in my research that
Peter Parker/Spider-Man
was portrayed by
Rene Auberjonois
(whom I would get to know decades later for his roles on
Star Trek
and
Boston Legal
) and the songs were sung by
Ron Dante
of
The Archies
!
You can purchase this recording as an
MP3
on
Amazon
over
here
, but that option strikes me as inferior to owning the original album whose availability you can check on
ebay
over
here
. If you'd like to taste the milk without buying the cow, you're really going to like what blogger
Phillyradiogeek
has put together for you over
here
.
The packaging suggested that
From Beyond the Grave
was to be the first in a series of
Rockomics
, but there was never another. I wish there had been.