Jeopardy! and Comics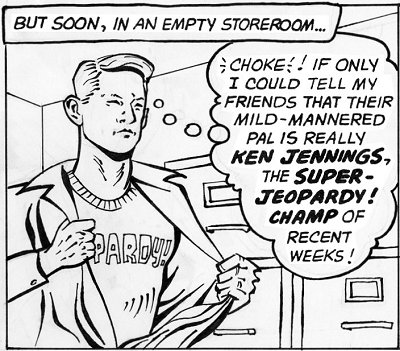 Ken Jennings
spoke on the radio yesterday morning and I learned that he has a connection to comic books! He mentioned that he is a big comics fan and owns a couple of boxfuls.
I've
written previously
about how
Len Wein
's wife
Christine Valada
had a winning run on
Jeopardy
, but
Ken Jennings
' 6-month 75-episode streak as
Jeopardy
champion about a decade ago is unsurpassed. He revitalized interest in the show for many viewers and he is my favorite
Jeopardy
player of all time (with
Frank Spangenburg
being my second favorite).
I did a little digging and found a blog post by
Ken Jennings
in which he wrote knowingly about
Curt Swan
's and
Mort Weisnger
's involvement with
Superman
, and you can read it for yourself over
here
. That page also exhibits the other three panels of the
Ken-Jennings-as-Superhero
comic strip that I am displaying one panel of.
You can follow
Ken
(or
me
) on
twitter
. He has written a new book that you can find out more about over there, and
he recently sent out the following interesting comics-related tweet:
In
Fantastic 4
comics in France,
Human Torch
says "Filet mignon!" instead of "Flame on!" and the
Thing
is called the
Je Ne Sais Quoi
.