Secret Origin: The DC DVD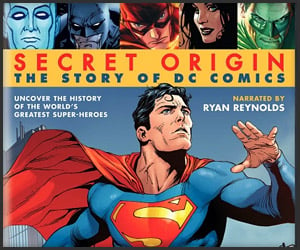 I just watched
Secret Origin: The Story of DC Comics
for the first time. I enjoyed it very much.
I am a lifelong fan of
DC Comics
but still I learned a thing or two. I took a minute to think about it when
Neil Gaiman
told how he struggled to convince his acquaintances that comic books were a medium and not a genre. The home movies of
Jerry Siegel
and
Joe Shuster
were great. And it was just a couple of days ago that
I shared with you
my "new find" of that black and white still photo of the 1940 Thanksgiving Day Parade
Superman
float, but this DVD includes
color film footage
of that same huge balloon!
Neal Adams
and
Mark Waid
were excellent choices for repeat interview subjects, and I particularly applaud the inspired inclusion of
Chip Kidd
and
Gerard Jones
considering both have themselves written books that parallel what they were discussing on this disc.
Here
is a fast-paced two-minute trailer for the movie but, if you are even a lukewarm fan of
DC Comics
, you should watch the entire documentary. You might check for a
deal on ebay
, but
Amazon definitely has it
for you.