Zipatone, Then and Now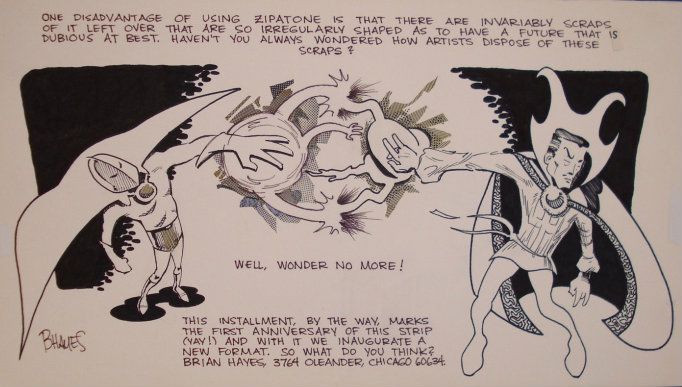 I always liked
zipatone
. You know, the transparent film with a printed pattern that an artist would x-acto-cut and affix to his drawing to achieve certain shading effects.
I liked
zipatone
as a comic reader, I liked it when I was drawing comics-related artwork of my own, and I'm not the
only
one who liked it;
here
is a nice article about
zipatone
that I found.
At this point I haven't used any
zipatone
in decades, and they even stopped manufacturing it about twenty years ago. As a lark I bought a few pages of
zipatone
on ebay last month and (if the adhesive on those pages still has some stickiness to it) I'll make use of the
zip
in some upcoming artwork.
In the meantime, maybe I'll show you a couple of my 1980s drawings where I used the stuff. The
Dr. Fate Versus Dr. Strange
above (published in
The Buyer's Guide
#483
, 2/1983, larger version over
here
) refers to
zipatone
by name, while the
Creature Commandos and Bob Kanigher
below (from
TBG #497
, 5/1983, larger over
here
) displays a more typical use of
zipatone
on the rocket ship. (By the way,
Mr. Kanigher
got such a kick out of my
Creature Commandos
drawing that he reprinted it on the letters page of
Sgt. Rock #397
in 1984.)
Hooray for
zipatone
! (...and may it rest in peace...)