My Favorite Action Comics Cover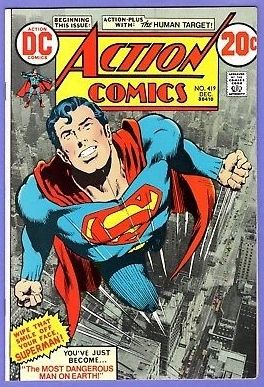 Action Comics #1000
is now upon us. How about that!
Some news outlets have been been running feature articles on which covers are the best that the series has ever featured.
The New York Times
, for example, devoted
a full page
to the endeavor this week. And on the
13th Dimension
comics blog,
Superman
writer/artist
Dan Jurgens
told what
his favorite
Action Comics
covers have been.
Mr. Jurgens
' top choice was
Action Comics #1
and his first runner up was
issue 419
's cover, as shown above. I was very pleased to see
#419
on the gentleman's list, especially so prominently, because that is my very own favorite
Action Comics
cover of all time.
Why, you ask?
Because I owned it for twenty years!
The original artwork pencilled by
Neal Adams
and Inked by
Murphy Anderson
is shown below. Iconic and fabulous. It was my great pleasure to own that page from the mid-1980s until 2006. It was purchased from me by a gent who wrote a half-dozen episodes of Seinfeld and you can read about the artwork's current status and whereabouts over
here
.