The Flash Running Rings Around Superman at C2E2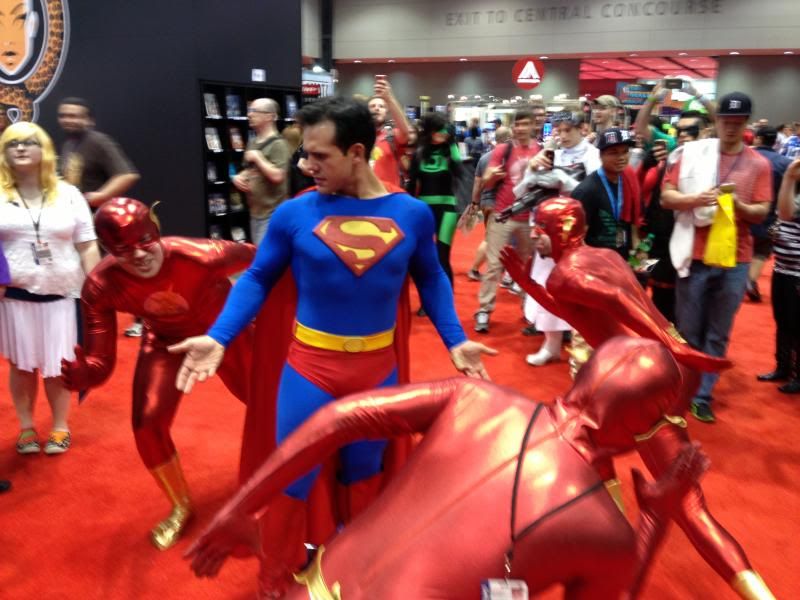 Talk about perfect timing!
C2E2
is the modern-day
Chicago Comicon
, and the 2013 festival was held this past weekend at the massive McCormick Place Convention Center. The prevalence of convention-goers donning costumes is a fairly recent phenomenon here in
Chicago
, and I have to admit that some of the costumes are really great. (No, I did not wear one.)
Some costume duplications are inevitable of course. There were quite a few
Jokers
(although I saw just one
Heath Ledger Joker
) and also many
Harley Quinn
s (all in
Harley
's original garb, none in her
New 52
get-up).
Silver Age Flash
es were plentiful as well; take a look up above at what
Jeanette
was able to snap a photo of.
Three unrelated
Flash
es converged on the spot where
Superman
was flexing and one of those four gents had a great idea. The three speedsters posed equally spaced in a circle around
Superman
as if it were
one
fast runner that we were seeing surround the
Kryptonian
. Brilliant!
I think
Carmine Infantino
would have gotten a kick out of that photo.